Madagascar

topographic map

Click on the map to display elevation.
About this map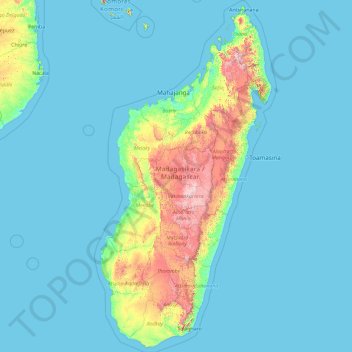 Minimum elevation: -3 ft
Maximum elevation: 8,406 ft
Along the length of the eastern coast runs a narrow and steep escarpment containing much of the island's remaining tropical lowland forest. To the west of this ridge lies a plateau in the center of the island ranging in altitude from 750 to 1,500 m (2,460 to 4,920 ft) above sea level. These central highlands, traditionally the homeland of the Merina people and the location of their historic capital at Antananarivo, are the most densely populated part of the island and are characterized by terraced, rice-growing valleys lying between grassy hills and patches of the subhumid forests that formerly covered the highland region. To the west of the highlands, the increasingly arid terrain gradually slopes down to the Mozambique Channel and mangrove swamps along the coast.[27]
Other topographic maps
Click on a map to view its topography, its elevation and its terrain.