Madrid

topographic map

Click on the map to display elevation.
About this map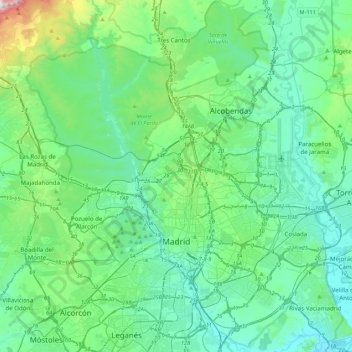 Minimum elevation: 1,719 ft
Maximum elevation: 4,544 ft
Madrid lies in the centre of the Iberian peninsula on the southern Meseta Central, 60 km south of the Guadarrama mountain range and straddling the Jarama and Manzanares river sub-drainage basins, in the wider Tagus River catchment area. With an average altitude of 650 metres (2,130 ft), Madrid is the second highest capital of Europe (after Andorra la Vella). There is a considerable difference in altitude within the city proper ranging from the 700 m (2,297 ft) around Plaza de Castilla in the north of city to the 570 m (1,870 ft) around La China wastewater treatment plant on the Manzanares' riverbanks, near the latter's confluence with the Fuente Castellana thalweg in the south of the city. The Monte de El Pardo (a protected forested area covering over a quarter of the municipality) reaches its top altitude (843 m (2,766 ft)) on its perimeter, in the slopes surrounding El Pardo reservoir [es] located at the north-western end of the municipality, in the Fuencarral-El Pardo district.