County Donegal

topographic map

Click on the map to display elevation.
About this map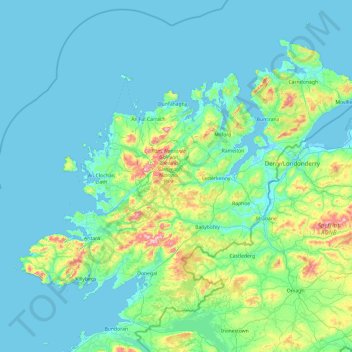 Minimum elevation: -4 m
Maximum elevation: 697 m
The majority of Donegal has a temperate oceanic climate (Köppen climate classification: Cfb), with upland areas in the Derryveagh and Blue Stack ranges classified as oceanic subpolar (Köppen climate classification: Cfc). The county's climate is heavily influenced by the North Atlantic Current. Due to the topography of western Donegal, it receives orographic rainfall, where the air is forced to rise on contact with its mountainous coastline and subsequently cools and condenses, forming clouds. The mountains of Donegal are among the cloudiest places in Ireland, and northern Donegal is the windiest. Irish monthly record wind speeds for March, June, July, September, November and December have all been set at Malin Head. The highest wind speed ever recorded in Donegal was 181 km/h (112 mph) on 16 September 1961, during Hurricane Debbie.
Other topographic maps
Click on a map to view its topography, its elevation and its terrain.